It's a long run battle between SEO and PPC, and a globally most discusses topic and what's the difference between these two.
Search Engine Optimization (SEO) is a process to get your website on the top position of search result and hence improve the visitor, quality and quantity in traffic organically. Whereas,
Pay Per Click (PPC) is a paid advertising model in which your site Ads get top position on search engines and other websites so every time someone clicks on ads you get charged.
The main difference between Search Engine Optimization (SEO) and Pay Per Click (PPC) is that traffic coming from SEO (organic) is free while traffic generated from PPC is not free (as the name implies you have to pay a cost per click).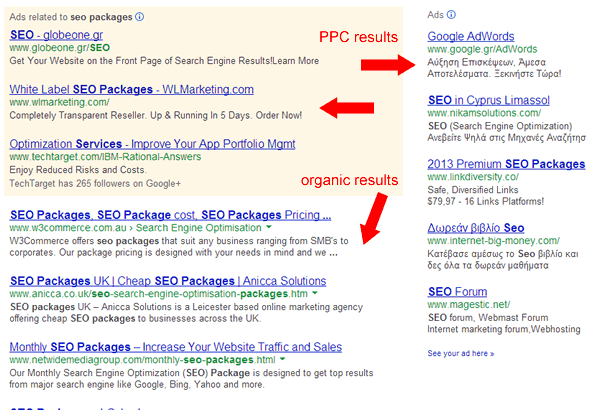 The above screenshot show how SEO and PPC results are shown in a result.
If you are going to pay for clicks from the search engines, then you are engaging in PPC advertising. Essentially, you are paying for website traffic. For example, Google has the AdWords program where you can bid for certain keywords. Your ad links therefore will be displayed on the sponsored search results. If someone clicked your link, then you have to pay Google for that visitor.
On the other hand, organic SEO is free. Your aim is to get top positioning on the search results. So when people use the search engines, the first links that will be displayed on the search results could belong to your website. You have no obligation to pay the search engines for the clicks generated by your links.
SEO is long-lasting, but PPC is instant and temporary. If you want to show results right away, use PPC. If you don't want them to disappear the minute you stop paying for them, SEO is the way to go.
So, the question is how we could take an advantage combines, to make a difference in our business objective. If a business goal is to drive traffic with the site, then the two combine methods of PPC and SEO will enable you to maximize your Search Engine Marketing (SEM) strategy and achieve the best of results. Both SEO and PPC are part of Search Engine Marketing (SEM) which is one of the tools you can use as part of your overall Internet Marketing campaign.
Conclusion:
In the end all that's matter is business objective and goals, so it doesn't matter whether work with SEO or with PPC.
A combine SEO+PPC as your Search Engine Marketing is the way to achieve your target goals. SEO and PPC have their own way of working but they are made to each other (in a humor sense).